Leanne Lauricella runs a rescue group for goats in New Jersey called Goats of Anarchy. One day Lauricella was shopping at Marshall's when she noticed some children's costumes. She especially liked the duck costume that included webbed feet and an orange bill and thought that this costume would look very cute on the goats that she rescued. She bought the costume without thinking about it too much. She had no idea just how helpful this costume would end up being.
One of the baby goats that Lauricella has rescued, named Polly, suffers from several medical issues. She suffers from anxiety, neurological issues that interfere with her eating abilities and is therefore very underweight for her age. Baby Polly is also blind.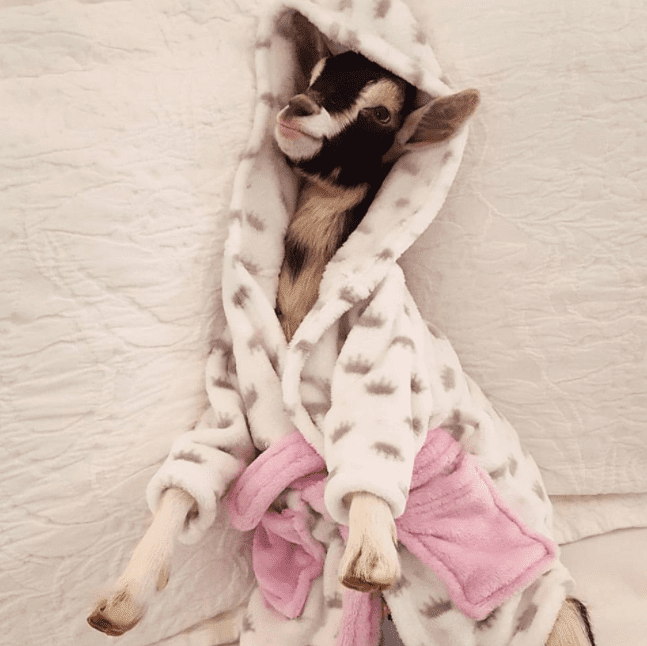 Due to her anxiety, Polly is very dependent on Lauricella. Often, when Polly cannot find her, she will run around the house, crying frantically. She also has bizarre behavior patterns, that are most likely caused by her anxiety. Lauricella said: "She'll find a corner of a wall in the house, and she'll just start sucking on the wall. So all the corners in our house have these little suck marks from her mouth."
When Lauricella put the duck costume she bought on Polly so she could take a cute photo, something surprising happened. Instantly, Polly's demeanor changed. "As soon as I put it on her, she just instantly got calm," she says.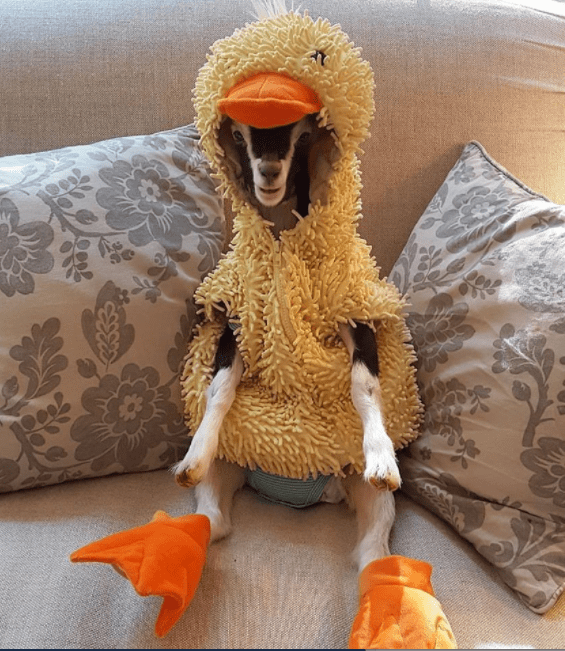 She continued: "I tried a ThunderShirt — it didn't work. There's something about that duck costume that calms her. She goes into a little trance. She just closes her eyes and she's out."
It seems as though Lauricella has found the perfect solution for Polly's anxiety attacks. Anytime she experiences one, Lauricella puts the costume on her, and Polly instantly relaxes. "She just calms down and goes to sleep. Instantly. It's become a thing that she's known for."